Boalloy – Repair/Refurbishment Bodyshop
Part of the Boalloy success story is the company's commitment to aftersales by providing repair and refurbishment services to our customers – it's what keep Boalloy apart from its competitors!
At our production facility in Congleton we offer a complete commercial body repair and refurbishment service.
Whether you require your vehicle/trailer completely refurbished or converted, bodywork components replaced or accident damage repairs our trusted and respected team are here to help.
Our fully equipped site enables us to focus on small repairs to major modifications all under the one roof. Box vans, flat trailers and curtainsiders by any manufacturer can all be repaired/updated to as new Boalloy condition.
Our first class refurbishment/conversion service is a great way of modernising your fleet at a fraction of the cost and we will endeavour to work with you to minimise the time your vehicle is off the road.
Our accident repair service is second to none and we can help in liaising with insurance companies on customer's behalf.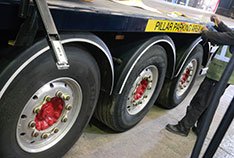 IF YOU NEED MORE INFORMATION ON OUR SERVICES PLEASE BROWSE OUR GALLERY, OR CONTACT US FOR A CHAT, WE'RE HERE TO HELP YOU.
Boalloy INDUSTRIES Used and Refurbished Trailer Sales
Replacement doors
New roof and/or repairs
Sandblasting
New Paintwork
New GRP panels
Panel Repairs
Curtain replacement with full livery
Signwriting
Chassis straightening and alignment
Trailer Heightening
Tail-Lift replacement/repairs
Floor repairs
Load-locking options
Buffing and Polishin
Boalloy Industries Limited. Radnor Park, Congleton CW12 4QA   |   Tel: 01260 275151   |   Fax: 01260 289604
Boalloy has been at the forefront of developing transport technology solutions for the commercial vehicle industry for over 50 years, and is generally regarded as one of the most respected names within this field. We uphold the highest engineering standards matched to a clear understanding of customer operating requirements.