Boalloy - History in the making
A brief insight into the history of Boalloy Industries. The ups, the downs, and the innovations that made boalloy what it is today.
In 1948 Bowyer Brothers was formed by three Sandbach lads - Harold Lea, Sam Bennett and Rob Fletcher. They began manufacturing specialised cabs and produced a range of tipper and van bodies.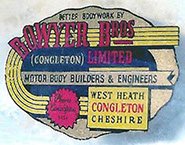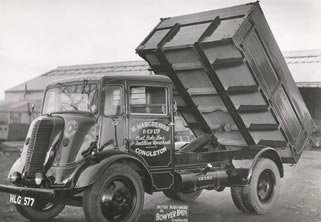 The company was renamed in 1968 when Bowyer Bros were bought out by Syd Abrams, a Manchester based Bedford dealer.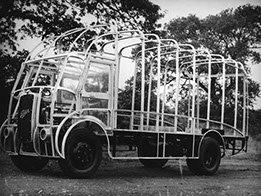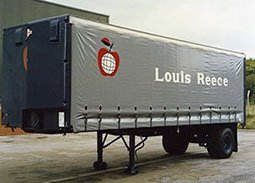 In 1969 the ground-breaking patented Tautliner revolutionised the transport sector after it's invention by Gerald Broadbent – a cab designer who started working for Bowyer Bros in 1958.
Louis Reece was the first Tautliner customer and this trailer is now a permanent exhibit in The Road Transport Collection at The Science Museum
By 1975 Tautliner trailers were being built in France, South Africa, Spain, Belgium, Ireland, Holland, Austria and Switzerland – all under Boalloy controlled licence.
In 1976 Gerald and Boalloy won their first Design Council Award for the Tautliner.
John Brown Engineering Ltd (ship builders) bought the company in 1978 and the first insulated curtainsided body was invented – The Insuliner.
Boalloy and Gerald, now joint managing director, won a second Design Council Award for The Linkliner
By 1980 the Tautliner was now being produced in Japan, Australia and Hong Kong (under Boalloy licence) and The Linkliner could be built in kit form in Ireland and Belgium.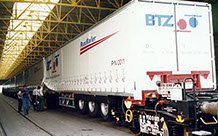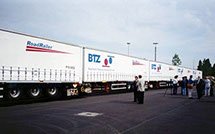 The 80's saw the inventions of the Railiner.
A loadbearing curtainsided design approved by French and British Rail (1980)
Refridgerated Insuliner – a top grade design suitable for all chilled transport (1981)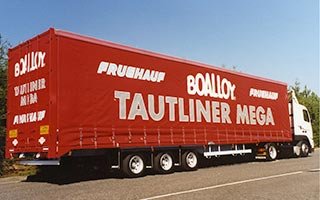 Boalloy Engineering, under the directorship of Geoff Browning and Gerald, re-purchased Boalloy Ltd from John Brown PLC in 1984.
Standardised 40ft Tautliner (1985)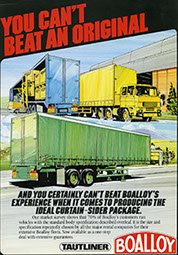 With Geoff's marketing expertise, Boalloy were now the market leaders at all weights from 7.5 to 38 tonnes where side-access was concerned, and had grown turnover to £20million.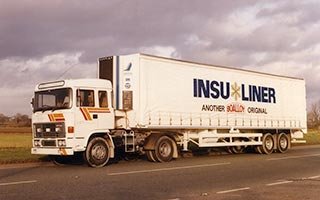 Seven.5liner – a trailer designed to fit any 7.5tonne chassis (1985)
By 1986 two major USA companies started building the Tautliner (under licence). New Zealand started building Tautliners and Insuliners. Tautliners were exported to Saudi Arabia and Insuliners were exported in kit form to Chile, making Tautliner a truly worldwide name!
Also in 1986 a third Design Council Award was won by the company for the seven.5liner
Euroliner perfected for Ferrymasters (1987)
1988 Boalloy Engineering was bought by Marling Industries for £26.8million.
Commercial Motor article from August 1988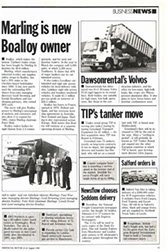 Boalloy launched The Fineliner for operators not requiring full load bearing strength of the Tautliner and began production of insulated and refridgerated versions for 17 tonners, based on the success of the 7.5 tonne rigids. Boalloy now had 300 employees
A Joint venture was formed in 1990 with massive German bodybuilder Schmitz to build Tautliner's under licence in Germany.
Following a management buyout in 1992 Gerald Broadbent left Boalloy.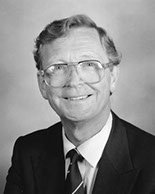 GERALD BROADBENT
A HERO OF HAULAGE
Gerald Broadbent started working for Boalloy in 1958 and was probably the foremost figure in post war British bodybuilding. He combined a wealth of engineering skills with a knack of knowing what the market wanted. He was singularly responsible for the concepts behind of most of
Boalloy's products. A colleague once described him as a "fine designer and eloquent communicator". Gerald was very well thought of amongst the Boalloy staff, Mick
(current workshop manager) said "Gerald walked through the workshops every morning at 7.30am and always had the time to speak to the staff – he knew everyone by name. He was one of a kind, a true gentleman."
He won 3 design council awards during his time at Boalloy and eventually became one of the judging panel.
Gerald left the company in 1992 and started his own consultancy firm. He died on 19th December, 2014, aged 86.
Boalloy - British Design Award Winners 1994.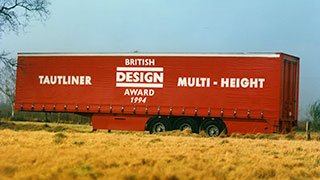 By 1995 Boalloy have opened a dedicated aftersales, repairs, refurbishment and parts centre in Newcastle Under Lyme.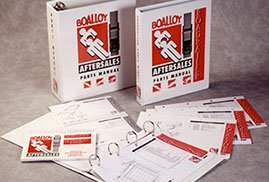 More and more competition entered the market offering cheaper versions of the curtainsider leading to a decline in Boalloy sales. Boalloy collapsed in 2007.
Edward Stobart bought Boalloy Fasttruck Bodies Ltd in 2008 just as the world recession hit.
In 2009 Craig and Angela Pickering bought the parts sales side of Boalloy from Edward and start trading under the name Boalloy Industries Ltd. They eventually secured the purchase of the Boalloy intellectual property and the Tautliner trademark.
In 2010 Boalloy Industries Ltd employed some ex-Boalloy engineers and technicians and expanded the business to offer a full repair and refurbishment service on-site at Congleton, as well as trailer sales, new builds, parts sales, etc.