Boalloy – Refrigeration unit specialists
Boalloy Industries Ltd are now refridgerated body repair specialists.
All members of our repair team have been fully trained and are qualified in this very specialist field. Small repairs, full panel replacements and accident damaged trailers can all be repaired to manufacturers recommended specification. All trailers are then buffed and polished so they look as good as new!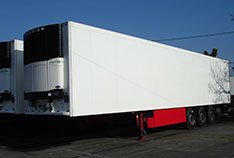 IF YOU NEED MORE INFORMATION ON OUR SERVICES PLEASE BROWSE OUR GALLERY, OR CONTACT US FOR A CHAT, WE'RE HERE TO HELP YOU.
Boalloy INDUSTRIES Used and Refurbished Trailer Sales
Boalloy Industries Limited. Radnor Park, Congleton CW12 4QA   |   Tel: 01260 275151   |   Fax: 01260 289604
Boalloy has been at the forefront of developing transport technology solutions for the commercial vehicle industry for over 50 years, and is generally regarded as one of the most respected names within this field. We uphold the highest engineering standards matched to a clear understanding of customer operating requirements.